Sports subreddits and their choice of words
Sports build character and different characters pick and form their sport. One sketchy, yet interesting aspect of personality are the words one choses to express himself. And that is what this article will analyse regarding fan communities of various types of sport.
About 861k randomly chosen comments to about 24k submissions from 2013-08 to 2014-07 on /r/baseball, /r/cricket and /r/golf /r/hockey, /r/nba, /r/nfl, /r/soccer and /r/tennis were collected and analysed for frequency of specific words and phrases.
Fairness
Let's begin with one very big aspect in every sport - fairness. The soccer people are worried the most about this topic. Especially discussing about referees is quite pronounced there.
Basketball guys seem to talk a lot about fouls, which probably is no surprise, since this is the sport with the most foul calls.
Dirty plays are particularly debated in ice hockey, while the mentions in the golf comments supposedly come more from lamenting about dirt on the otherwise so perfect green. ;)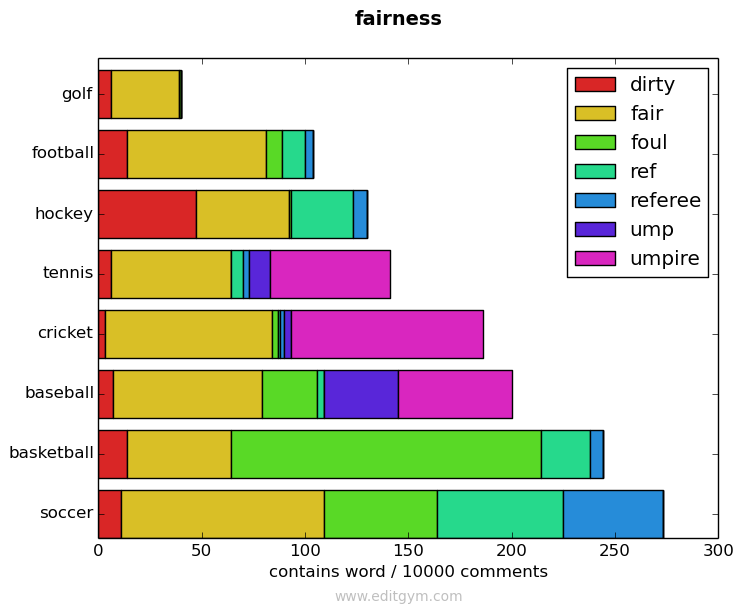 Steroids
The following diagram is quite easy to read. The baseball fans are by far more concerned about usage of steroids than all others. And no, this data was not accidently taken from a bodybuilding board.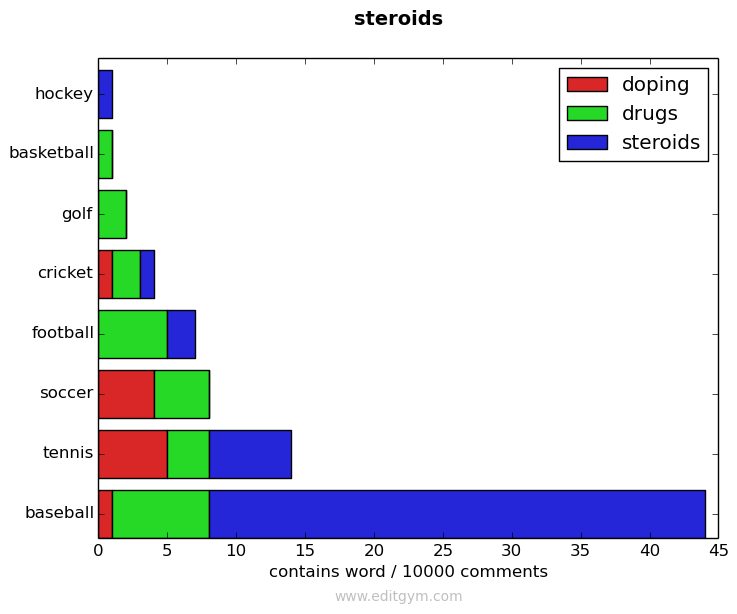 Money
Here too, baseball is the leader. But they are tightly followed by the other bballers.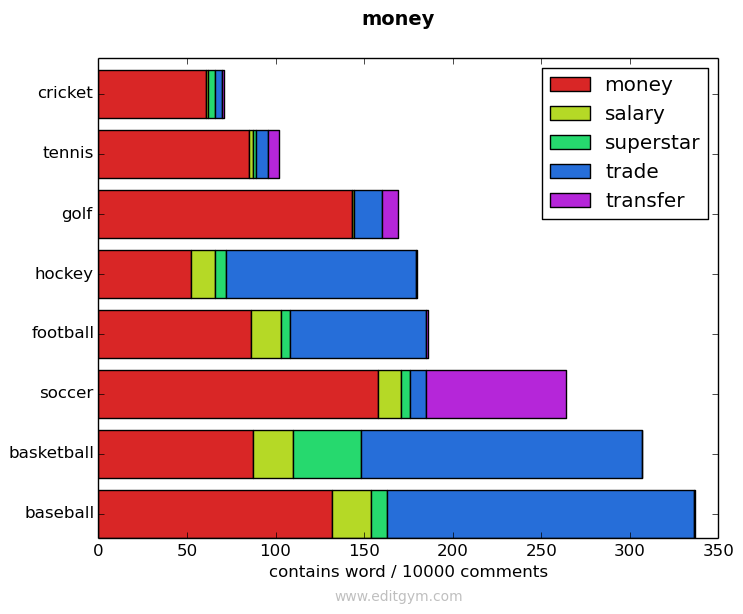 Cursing
As one would expect in tennis and golf they curse fewest of all. Hockey not only leads this category, they also use the most popular swearword - f*** - more than everybody else.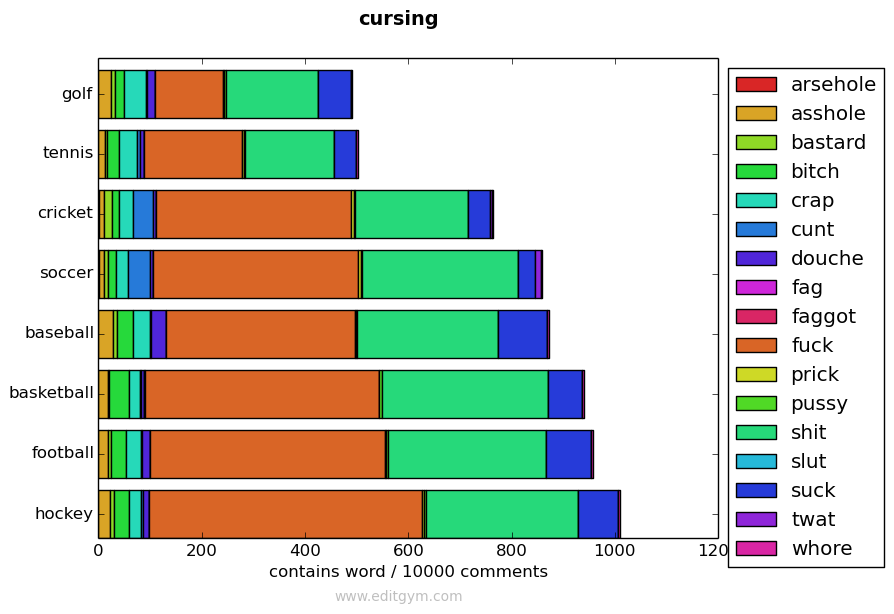 Happiness
The expression of happiness seems to be kind of the inverse to the cursing statistics. Perhaps Happy Gilmore's decision to switch from hockey to golf really was a very wise one.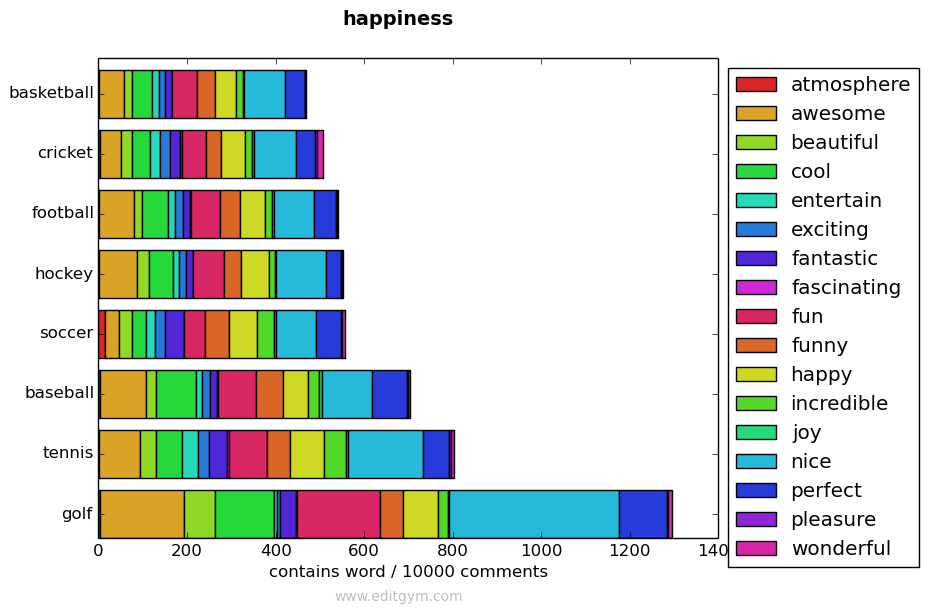 Food, drinks etc.
Golfers really seem to like beer, while the football people talk quite a lot about weed.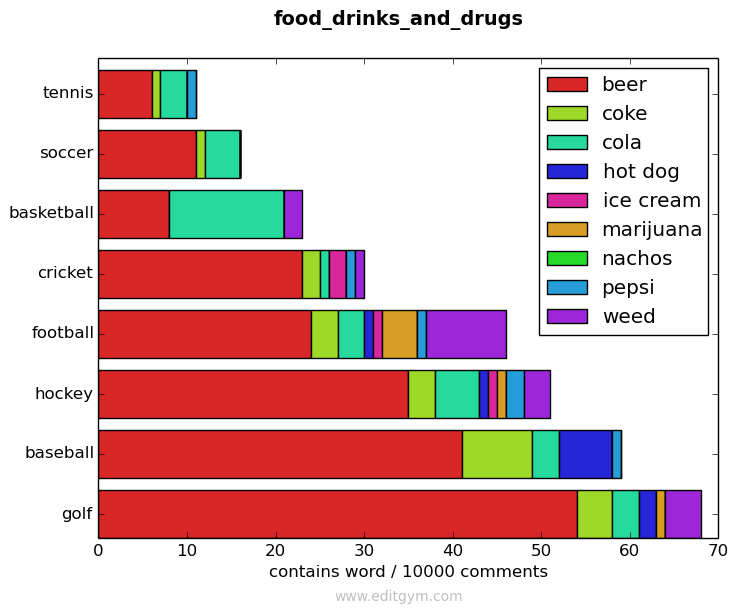 Mutual mentions
Finally we look at how often the communities mention each others sports.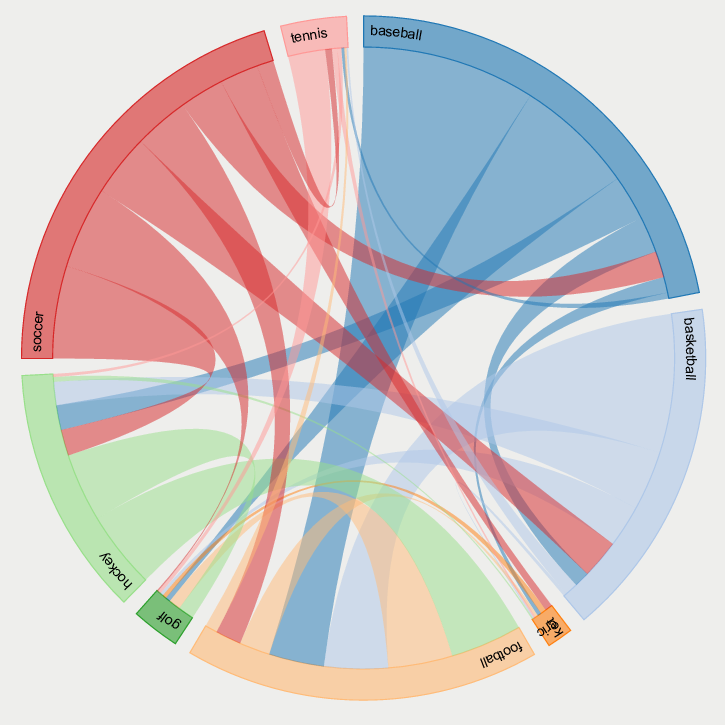 (Click here for the interactive version and an explanation for this diagram type.)
The football fans mention baseball and basketball much more often than the other way around. And the golfers seem to be quite isolated. Nobody talks about them but they also do not care much for the other sports.
That's it. If you want to you can download the raw data all these diagrams are based on.